By Sarah O. of Sarah O. Jewelry
Every Holiday season, we do all we can to give back to our community. This year, we have chosen to help with a cause that is very close to our hearts. My husband and I, have a deep connection with Children's Hospital. What started out as a high fever for our son Mateo when he was 3 weeks old quickly turned into meningitis. We were rushed to Children's Hospital and spent the next 25 days in the hospital as he received treatment around the clock. We are beyond grateful to say that almost three years later there are no signs of damage from the meningitis.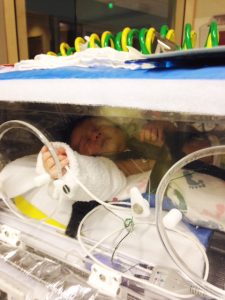 We are the lucky ones that got to leave with a healthy child but we met so many families and kids there that weren't so lucky. With the flexibility of our jobs, very helpful parents and friends, we were able to spend most the 25 days there with our one month old son. But not all parents were so fortunate. Many parents we met were forced to go to work all day, take care of their kids at night and only visit their sick kids on occasion. Other parents lived out of state and were only able to come on the weekends. And other parents lost their jobs spending so much time at the hospital and were barely scraping by.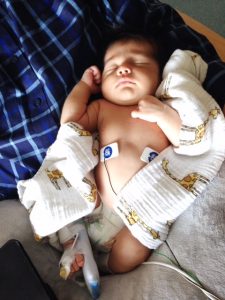 Caring for an incredibly sick child is hard enough. Figuring out how to pay for the insane medical bills, taking care of their other kids at home, going to work everyday, it all adds up and puts immense pressure on parents and families. Just because your child is in the hospital, life doesn't stop and seeing so many families struggling while we were there has left a lasting impact on our family.
When we were in the hospital, there were days when random families who had spent time at Children's would deliver a meal, or a stuffed animal for the kids or the most touching, parents who had lost their own child came to stamp Mateo's footprint on a small easel for us. They did this in memory of their lost child but they have no idea how much that small act of kindness meant to us when we were at our lowest point.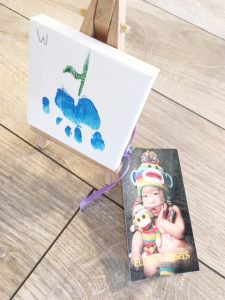 It's so hard to imagine these sick kids having to spend their Christmas in the hospital away from friends and family. And with families so strapped for cash trying to keep up with hospital bills, the stress they must be under to give their kids a perfect Christmas is heartbreaking. If we can help make this Christmas a little easier for the parents, and bring a smile to these kid's face come Christmas morning, I can't imagine a better gift than we can give.
For this reason, we have teamed up with my husband's Toy Drive for Children's Hospital. My husband, Mic Ortega, is a local Realtor with Live Urban Real Estate. His Real Estate team, the Urban Niche Group is sponsoring this Toy Drive and for every toy that is donated, they will match it to double the donation to Children's Hospital. You can find out more about the Toy Drive HERE.
You can drop toys off at Sarah O Jewelry now until the 18th. Thank you for considering this cause and let's make this Christmas special for some local children in need.
Thank you so much!
Sarah, Mic and Mateo Ortega